Loudenslager Fall Costume Parade Parent Letter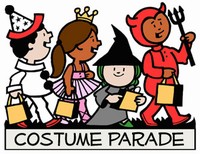 ---
October 14, 2022
Dear Parent/Guardian;
We would like to invite you to the Loudenslager Elementary School Fall Costume Parade on Friday October 28, 2022. The parade will begin at approximately 1:45 PM. Parents are invited to stand outside along the perimeter of the property as the students parade down the sidewalk. Students will complete the parade loop twice before returning to their classrooms.
In the case of inclement weather, the parade will be canceled. In the event of inclement weather students will remain in their classrooms and follow their regular instructional schedule.
Staff and students will follow a normal schedule on October 28th and lunches will be served as usual. We ask that you do not sign your child out to change into their costume, all students will be permitted to change into their costumes after lunch time.
Please have your child bring his/her costume to school in a bag. Swords, knives, play guns, hockey sticks, scythes, etc. will not be permitted.
If you would prefer to not have your child participate in this activity, please contact your child's teacher and a supervised alternate activity will be provided during the Costume Parade.
Thanks,
Matthew J. Browne
Loudenslager Elementary School, Principal
Paulsboro Public School District