Arrival & Dismissal Procedures - Loudenslager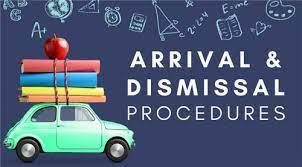 ---
September 1, 2023

Dear Parent/Guardians,
Happy Labor Day Weekend! As we approach the first day of school on September 5th, I wanted to take the opportunity to provide our parents with some reminders regarding the arrival and dismissal procedure at Loudenslager Elementary School. It is our goal each day to have your child arrive safely and return home safely, and we appreciate your cooperation and understanding with regard to these safety protocols.
Morning Arrival Procedure
Parents are encouraged to pull their cars all the way to the end of the cement sidewalk before stopping and allowing your child to get out. Parents are not permitted to let their children out of the car in the grass area on Spruce Street. Additionally, we remind parents that they are NOT PERMITTED to pass the car in front of them in order to get toward the front of the drop-off line as it poses a significant safety risk to our students. You may slowly pass on the left to leave the lot once it is safe to do so.
Afternoon Pick-Up Procedure
In the afternoon, we utilize a staggered dismissal schedule to ensure that we are able to safely and efficiently get the cars out of the parking lot before the walkers are dismissed from school. Our Parent Pick-Up dismissal bell rings at 2:50 PM each afternoon and staff are assigned each week to assist with this process. Parents are requested to utilize the entire area along the fence during our parent pick-up procedure. As is the case with the morning, parents should pull all the way forward before stopping their car to allow for more cars to get into the lot. We have a significant number of staff members present to assist with dismissal each day.
As a reminder the Parent-Pick-Up Lot is a one-way in and one way out lot. Parents will continue to drive forward on the road that connects with Jessup Street, which will push traffic out to Delaware Street. See Link Below for more information.
New Traffic Pattern (Loudenslager).pdf
Inclement Weather
The doors at Loudenslager will open each morning at 7:55 AM. On all other days, students will remain outside under the supervision of staff members. On inclement weather days (Rain, Snow, Low Temperature), parents are permitted to keep their children in the car in the parent pick-up lot until the 7:55 AM bell rings. If you choose to keep your child in the car, we ask that you pull all the way up to the end of the parent pick-up sidewalk so that the rest of the line can continue to drop off students as needed.
Staff Parking Lot
Parents are not permitted to drop off or pick up their students in the Staff Parking Lot at Loudenslager Elementary School. This parking lot is reserved for staff members and visitors who are entering our building and poses significant safety risks when students are dropped off in this area.

Pick-Up/Drop Off Along Swedesboro Avenue
Parents are not encouraged to utilize Swedesboro Avenue to pick-up or drop off their students each day. The road is extremely narrow and the presence of cars along that street creates traffic issues during both the arrival and dismissal process. With that being said, if you elect to pick-up or drop off on Swedesboro Avenue, we ask that you ensure that your students utilize the crosswalks to cross the street. Additionally, please understand that students who are picked up at this location are treated as walkers and will not be dismissed until the 2:57 PM dismissal bell.
If you have any questions or concerns regarding any of our arrival or dismissal procedures, I encourage you to contact the Main Office at 856-423-2228 Ext. 4201. I thank you in advance for your cooperation and look forward to a successful second half of the school year.
Sincerely,
Matthew J. Browne
Loudenslager Elementary School, Principal
Paulsboro Public School District