Parent Letter - 6th Grade Moving Up Ceremony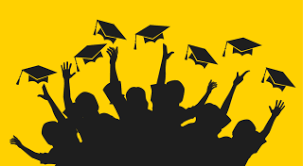 ---
May 13, 2022

We are excited to announce that Loudenslager Elementary School will be holding our 2022 6th Grade Moving Up Ceremony on Wednesday June 8, 2022 at 10:00 AM. This year's ceremony will be held on the Front Lawn at Loudenslager Elementary School.
Tickets
Tickets will be required for admittance to the 6th Grade Moving Up Ceremony. Each student will receive Three Tickets for the outdoor ceremony, which will be distributed to students during the 1st week of June. Additional tickets may be available after all participants have received tickets, and will be distributed as equally as possible. Requests for additional tickets or special seating should be sent to jhoffman@paulsboro.k12.nj.us.
Rain Date
In the case of inclement weather on Wednesday June 8, 2022 the ceremony will be held on Thursday June 9, 2022. If the weather does not cooperate on either of these two dates, the ceremony will be held in the Loudenslager All-Purpose Room on Thursday June 9, 2022.
Moving Up Rehearsals
Students will be expected to participate in four mandatory rehearsals to be held during school hours on 6/2, 6/3, 6/6, and 6/7. Students will be expected to be present at school on each of these days and must display appropriate behavior during all rehearsals. Students who do not participate in the mandatory rehearsals or who cannot behave appropriately may not be permitted to participate in the Moving Up Ceremony on June 8th.
Parent Parking
Parents who are driving to the Moving Up Ceremony are requested to park in the Loudenslager Parent Pick-Up Lot. For the safety and security of our students and to ensure the free flow of traffic around the building, parents will not be permitted to park on Swedesboro Avenue during the Moving Up Ceremony.
Dress Code
Recommended attire includes collared or button down shirts, dress pants and dress shoes (boys), dress or skirt and blouse and dress shoes (girls). Students should not wear jeans and should not wear hats or carry handbags. Suits and/or brand new outfits are not necessary for participation in this event.
Photography
Friends and family members may take pictures of the Moving Up Ceremony from their seats. Parents are not permitted to leave their seats or approach the student seating area during the ceremony.
We are excited to be able to share this experience with our 6th Graders in person this school year, and we look forward to a successful conclusion of the 2021 - 2022 school year. If you have any questions or concerns regarding the 6th Grade Moving Up Ceremony please contact the Main Office at 856-423-2228 Ext. 4201.
Sincerely,
Matthew J. Browne
Loudenslager Elementary School, Principal
Paulsboro Public School District